If you do not have a water dispenser but require a water filtration system that ensure your tap water is purified and removed of sediments and contaminants, PureDew also offers an Eco-friendly Green Filter Singapore.
It has simple installation process – all you need is present inside the box. The maintenance is easy with filter changes every six months.
CLEAN, HEALTHY AND TASTY WATER
Filter cartridges are manufactured by industry experts and leaders. The leading technology applied in filter media ensures the quality and taste of the water by eliminating impurities while retaining healthy and thirst quenching minerals.
ECO-FRIENDLY
The water filter is reusable and refillable.
CUSTOMISABLE
There are variety of filter elements that are available to meet all your water filtration need. This eco-friendly domestic water filtration solution comes with a set of customisable system for one, two and three-stage filtration.
DELIVERY AND INSTALLATION
There are two types of filters options in eco-friendly green filter Singapore. You can either order a new filter or get a replacement. Both of the options are inclusive of installation and delivery charges. The important thing to know is that your filter can easily last up to six months.
BASIC KIT
The Basic kit is a single-stage kit with only one filter: carbon/phosphate.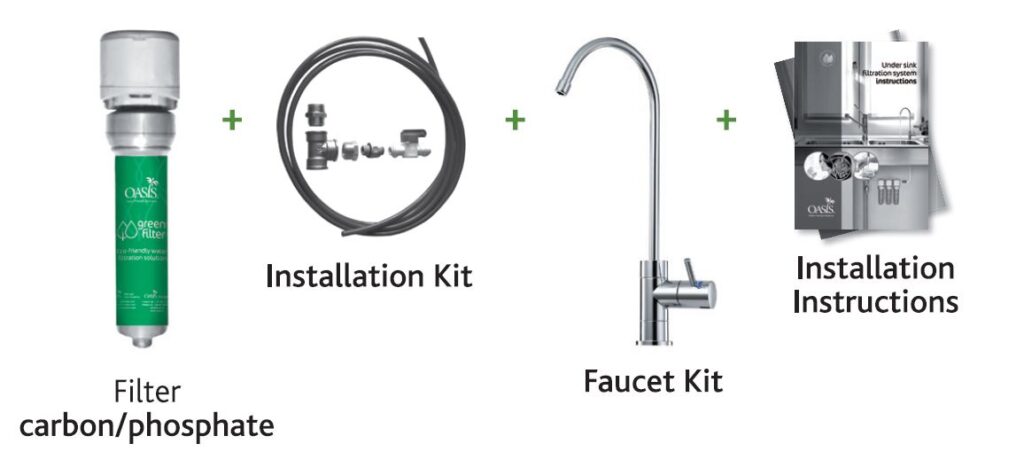 ADVANCED KIT
The advanced kit is a two-stage kit with two filters: sediment and galaxy.

Improve the taste and quality of your drinking and cooking water with OASIS green filter system.
Model
Installation Kit
Filtration Stages
One stage
Two stages
Three stages
Filter Types
Sediment
Carbon
Carbon/phosphate
Carbon/lead/silver
Carbon/lead/silver/phosphate
Ceramic
Galaxi
Galaxi/phosphate
Remedi
Remedi/phosphate
Country of Brand