SNOWDROP Hydrogen (White) Rich Reverse Osmosis Water Purifier Singapore
Order this SNOWDROP Hydrogen white rich reverse osmosis water purifier Singapore from PureDew International Pte Ltd.
This stylish hydrogen water dispenser combines filtration for water purification, heating & cooling function of a water dispenser and hydrogen-rich water.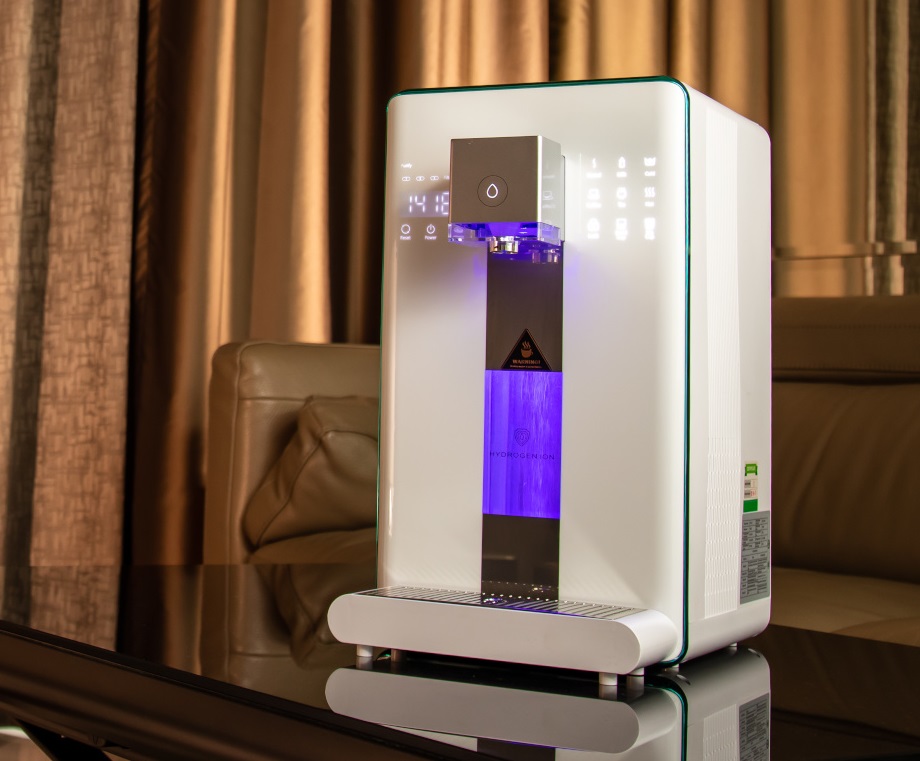 WHY HYDROGEN WATER?
Many people are familiar with alkaline water that seeks to use higher pH to treat issues in the body. But hydrogen water is equally effective in protecting against oxidation stress and inflammation – the basis of all illness, ageing and disease.
What is Oxidative Stress?
Oxidative stress is the cause or contributor to every human disease. We need oxygen to survive, but oxidation also leads to the production of free radicals. Free radicals are oxygen-containing molecules that contain unpaired electrons. Since these electrons are supposed to be paired, they work their way through other cells in order to find an electron, leading to damaging or killing cells. With oxidative stress, you may experience things like:
Pain
Inflammation
Disease
Fatigue
Chronic Illness
Studies show that molecular hydrogen protects the body against oxidative stress by neutralising free radicals.
What is Molecular Hydrogen?
Molecular hydrogen is an antioxidant armed with several health benefits, which is why many molecular hydrogen-based products like hydrogen water are in demand.
How Does Hydrogen Water Neutralise Free Radicals?
The molecular hydrogen H2 searches for free radicals (unpaired electrons) in the body. When H2 and free radicals come together, the formula for H2O is complete and the result is clean water.
What Are the Benefits of Drinking Hydrogen Water?
Here are just a few that you can expect when consuming hydrogen water:
Decreased risk of obesity and type 2 diabetes
Relief from symptoms caused by rheumatoid arthritis
Improved glycemic control in those with type 1 diabetes
Allergy relief
Reduced inflammation caused by neurological disorders
SNOWDROP HYDROGEN RICH REVERSE OSMOSIS (RO) WATER PURIFIER
This water dispenser produces hydrogen-rich water and has a built-in germicidal lamp, visual indication and anti-bacterial, ensuring you are drinking clean water.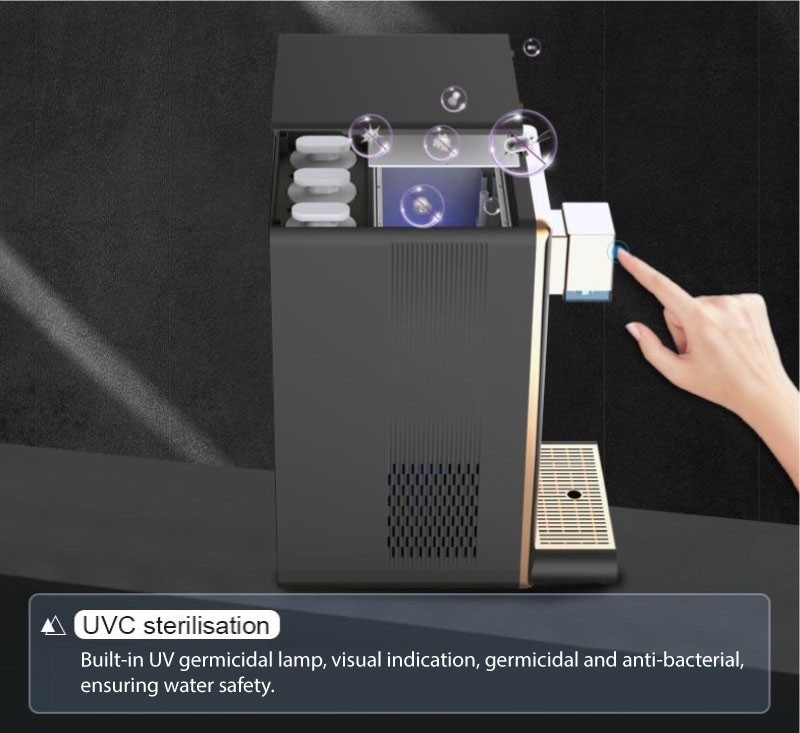 The hydrogen-rich, instant-hot purifier has plenty of features that you may not find in an ordinary dispenser.
It integrates heating, cooling, filtration and hydrogen-rich water.
It has the filtering function of the water purifier, the heating and cooling function of the water dispenser and the hydrogen water production function of the hydrogen-rich water machine.
It has a regular size with extra power, and it does not require installation in a fixed placed; it can easily be moved around wherever you want to place it.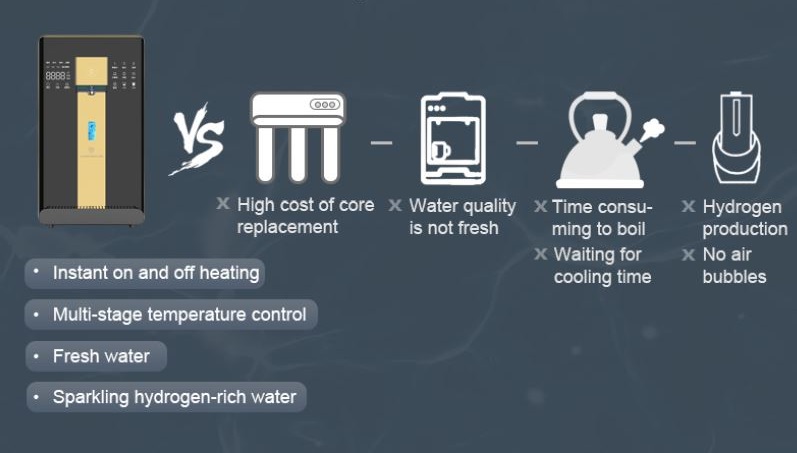 SUPER-CONCENTRATED HYDROGEN-ENRICHED WATER TECHNOLOGY
Hydrogen is produced by electrolysis of pure water through a separate electrolysis module. It is then rapidly mixed and pressurised by a water vapour mixing system. The hydrogen gas and drinking water are mixed and pressurised instantly so that the water appropriately wraps hydrogen molecules. This will produce a stable combination of hydrogen and water, producing ultra-high concentration bubble hydrogen-rich water.
True physical hydrogen dissolution, instant hydrogen production, highly concentrated hydrogen enrichment
No contact with the electrolysis module for drinking water, hence safer water to drink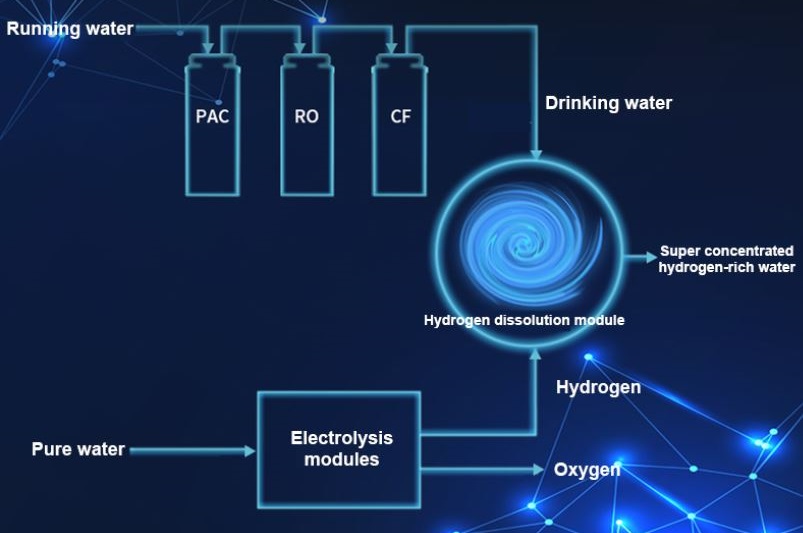 WATER FILTRATION SYSTEM
One of the major benefits of this water dispenser is that the filtration system is in-built into the dispenser. There is no need to cater additional space under your counter or in your cabinet for water filters.
The Hydrogen white rich reverse osmosis water purifier Singapore offers a 4-stage purification system with full filtration of heavy metals with the retention of beneficial minerals. The filtration system uses disposable quick-connect cartridges, which can be conveniently and independently installed on their own.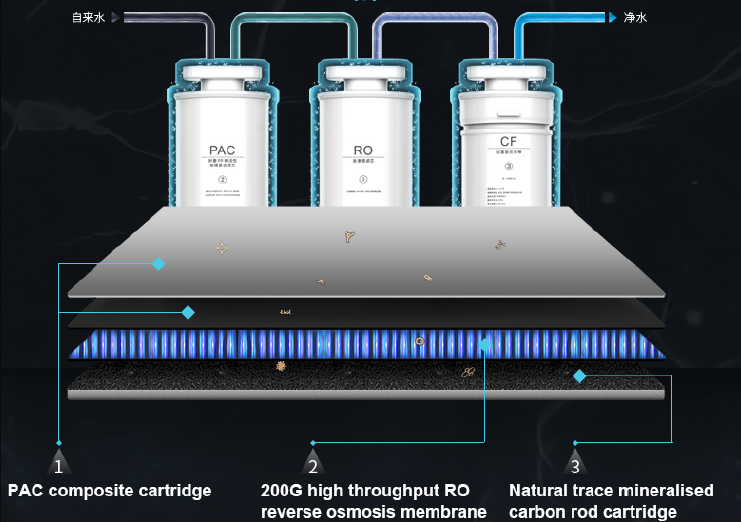 Stage 1 & 2 – PAC Composite Cartridge
Filter material: polypropylene folded fibre PP cotton + carbon rods
The first step of this stage is intercepting large particles of impurities such as sediment and rust suspended in water
Secondly, it absorbs residual chlorine, odour and colour etc.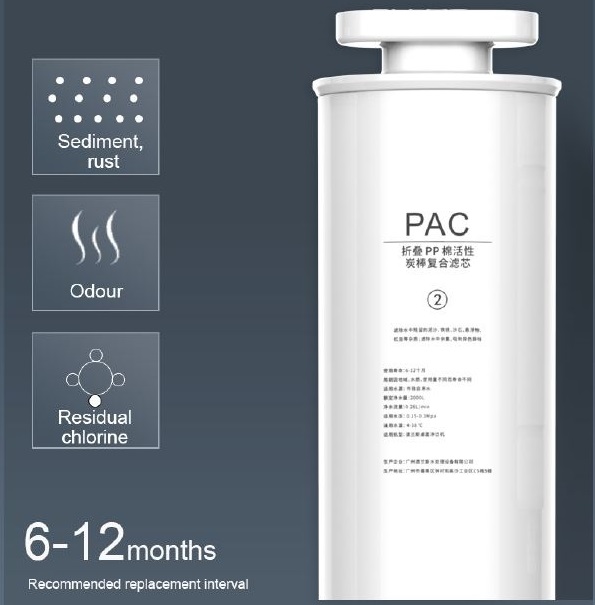 Stage 3 – RO Reverse Osmosis Membrane (200G High Throughput)
Adopts high-tech, aerospace-grade RO technology with a theoretical purification precision of 0.0001 microns
Filters out bacteria, heavy metal, limescale, pesticide residues, anti-biotics, radioactive particles, residual chlorine, microorganisms, organic matter and other harmful substances in water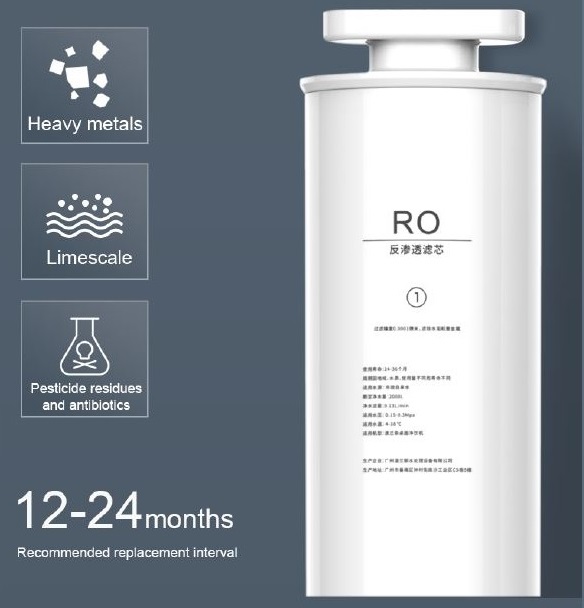 Stage 4 – Natural Trace Mineralised Carbon Rod Cartridge
No secondary pollution, no heavy metal overload
Mildly alkaline, pH value can be stabilised between 7.0 – 8.5, maintaining a weak alkalinity
Rich in a spectrum of trace elements such as potassium, sodium, calcium and magnesium, and has mineralisation for 15 months of continuous use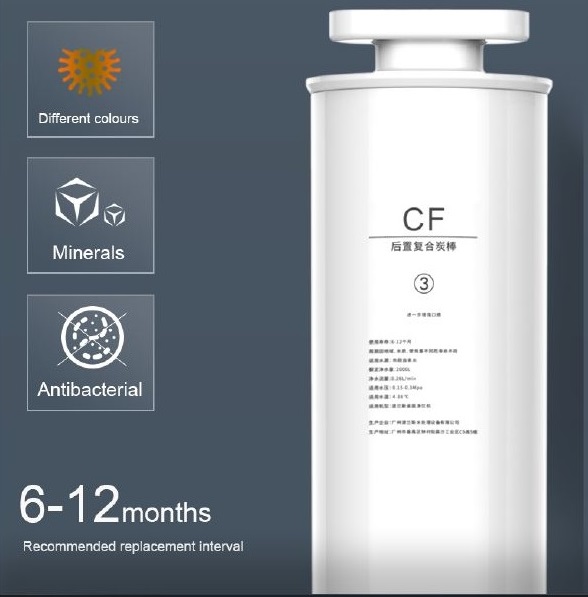 WATER TEMPERATURE CONTROL
Adjust six different temperatures with the 6-stage adjustable temperature control system. The temperatures can be set at room temperature, for boiling water, coffee brewing temperature and honey water temperature. You can also set the temperature to make a quick cup of tea.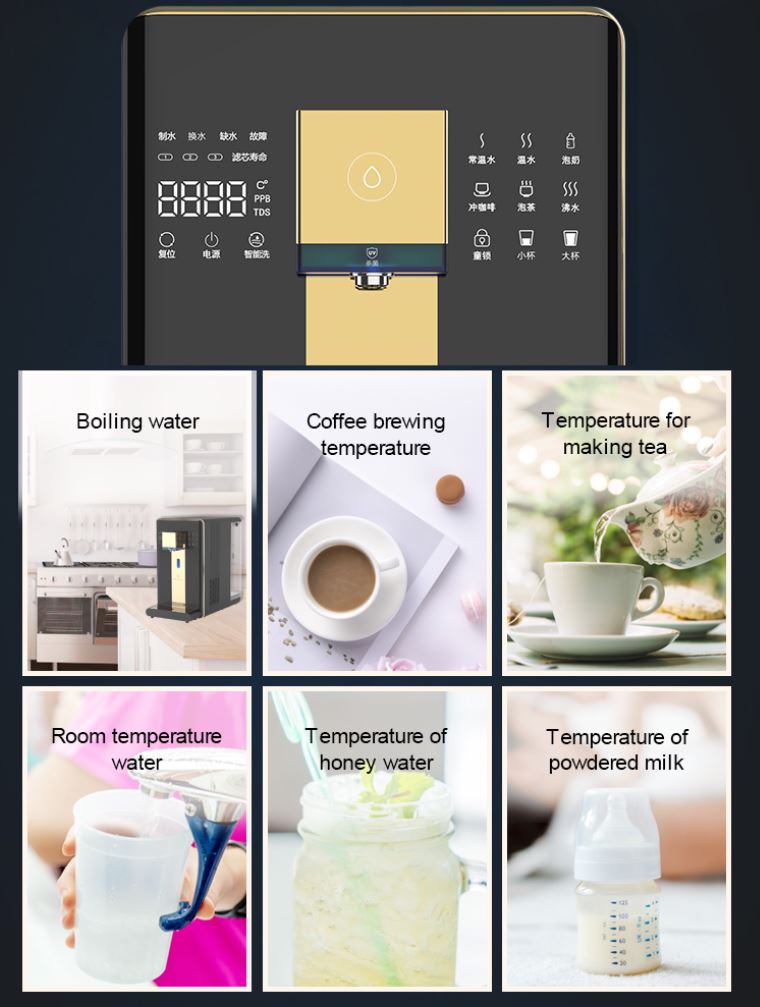 Here are some more important factors that make the product outstanding:
The water is filtered before boiling
The inner machinery is protected with refined steel core, making it explosion-proof
The heat quickly penetrates each water molecule
The third generation of rare earth 3 seconds instant heat technology allows water to be heated in 3 seconds
The semiconductor refrigeration technology can be as low as 10 degrees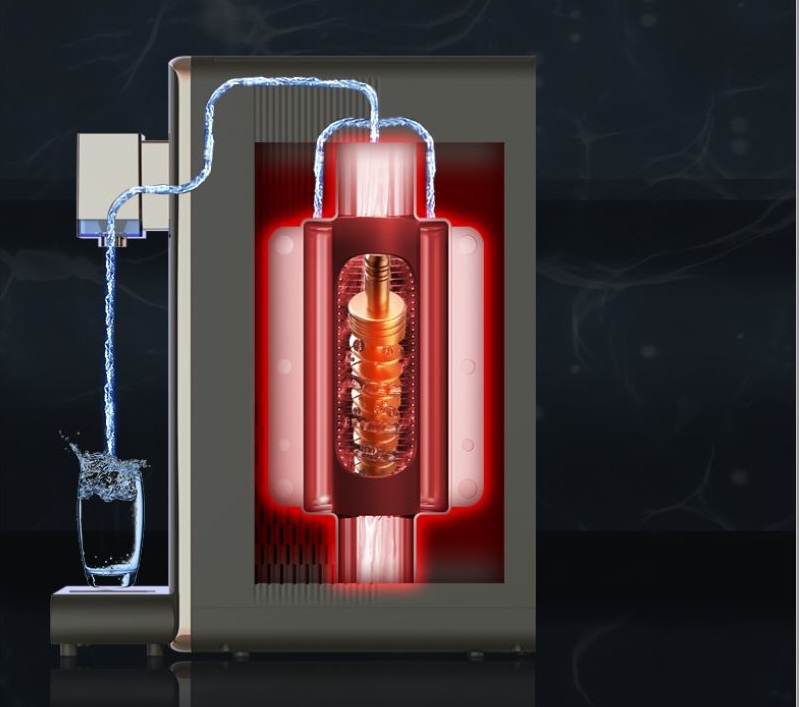 INTEGRATED WATER CIRCUIT
The original water tank, cartridge and water purification tank are connected by an integrated water circuit, starting from the pipeline point, to reduce the hidden danger of leakage. It will also improve the efficiency of water production and reduce the assembly process. The water circuit is under strong pressure of 3.6MPA, with fewer interfaces and more reliability, so there is no chance of water leakage.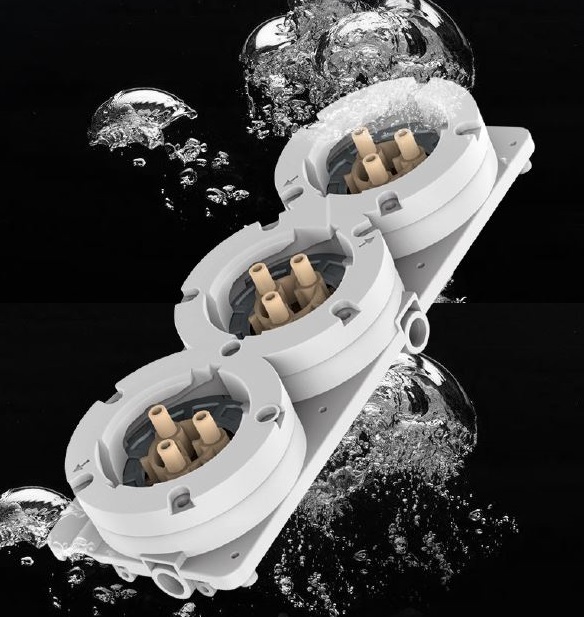 DELIVERY AND INSTALLATION
Purchase Hydrogen white rich reverse osmosis water purifier Singapore and enjoy free delivery and installation in Singapore worth SG$150.
The free installation includes up to 3 metres of piping (flexible tubing) to connect the water dispenser directly to your water point. There is a surcharge of $10 for each additional metre of piping.
12-MONTH WARRANTY
All home water dispensers (purchased for a home address) come with a 12-month warranty.
See more details on the warranty and extended warranty here.
Features
2 temperatures (Hot & Cold)
Explosion-proof steel core
Heat quickly penetrates every water molecule
Semiconductor cooling technology for good taste down to 10 degrees
Fourth generation SPE electrolysis to hydrogen technology
Aerospace technology
Reverse osmosis purification technology
Third generation rare earth 3 seconds instant heat technology
Multi-filter purification
UVC germicidal
Instant on & off heating
Multi-stage (6 steps) temperature control
Water Temperature
Water Heating Capacity
Water Production Flow
Rated Voltage
Rated Heating Power
Rated Cooling Power (model with refrigeration)
Dimensions
345(W) x 240(D) x 430(H)mm
9.6kgs
Country of Origin
Price is subject to GST.